Doting dad Peter Hearn was prescribed the anti-depressant drug Prozac when he went to his GP suffering from sleepless nights - within eight days he took his own life.
In the first of a series of articles, Journal reporter Megan Bolam investigates new fears over the safety of the 'wonder drug' and the spiralling use of anti-depressants.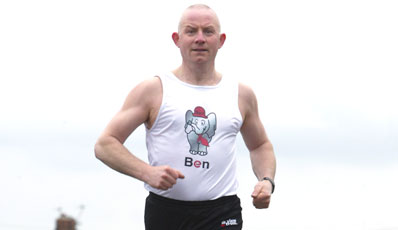 Peter Hearn was a dedicated family man who lived life to the full and, as a devoted husband and father, he had everything to live for.
At the age of 51, father-of-two, Mr Hearn was as fit as some men half his age and in May last year had just completed his third consecutive London Marathon.
In late August, he contacted his GP because he was suffering from sleepless nights and had lost his appetite.
But eight days later he tragically took his own life, days after his doctor had prescribed him with the anti-depressant drug, Prozac.
Mr Hearn is just one of what is believed to be around 15,190 people in Northumberland and Tyne and Wear who have been prescribed Fluozetine/Prozac during the last year.
This makes up almost one third of the 47,092 people who are believed to have taken one of the six types of anti-depressant drugs, Selective Serotonin Re-uptake Inhibitors (SSRIs), between April 2003 and March this year.
An investigation by The Journal reveals doctors in Northumberland and Tyne and Wear handed out 565,106 prescriptions for SSRIs, including Fluoxetine, Citalopram, Fluvoxamine, Paroxetine, Ser traline and Escitalopram over the past year. Of these, 182,286 were for Fluoxetine/Prozac alone. The SSRI figures represent a staggering increase of 96,206 on the 468,900 prescriptions dished out in 2002/03 and an extra 43,500 on the 425,400 prescribed in 2001/02.
In Durham and Teesside, the prescription figure for 2002/03 was 362,700, compared to 321,500 the previous year - a rise of 41,200.
Overall, the number of prescriptions for SSRIs have increased by 198,906 in the past three years.
And with GPs claiming the average prescription lasts for four weeks, it is estimated a massive 47,092 people in Northumberland and Tyne and Wear took SSRIs last year - compared to 39,075 in 2002/03.
Health experts last night put the rise down to the ease with which the drugs are available.
Mr Hearn's wife Anne, 50, convinced a coroner to hold a second inquest into her husband's death last week and overturn his initial verdict of suicide to "death by hanging".
Mrs Hearn claims her husband would never have taken his own life, had the drugs not triggered suicidal thoughts, ultimately leading to his death.
Anti-drug campaigners last night said Mr Hearn's case was an all-too-common occurrence with doctors prescribing medication for depression when other options could be explored.
Mrs Hearn, a secretary, said Peter was unaware of the side effects of the drugs, which included sleeplessness and suicidal tendencies, and she is now demanding answers from doctors and drug companies.
Mrs Hearn, of McNamara Road, Wallsend, said: "Peter was too full of life and looking forward to the future too much to have deliberately ended his own life. He was a good person with a wonderful personality, who was strong physically and in mental attitude.
"We were never told suicidal tendencies were an initial side effect of the Fluoxetine and people should be aware of this."
Mrs Hearn said her husband's life took a downturn in May last year when his workplace of 23 years, Precision Hydraulics Cylinders, Cramlington, burned down and he was left unemployed.
The former maintenance engineer tried his hand at several jobs before securing a position as an engineer with Lloyds British to start last September.
But on August 28, he visited his GP, complaining of sleeplessness and an upset stomach.
He was diagnosed with depression and prescribed a six-month course of Prozac.
He initially hesitated to take the medication, but Mrs Hearn says her husband had been on the drugs no more than a day before his personality changed completely. Then, on September 4, he hanged himself in his own garage.
She said: "From the first day, he took the medication, Peter was unsure and unable to cope, which was completely out of character.
"He was not sleeping at all and he returned to the doctor four days later and asked for something to help him sleep, but he was refused because he was already on the Prozac.
"When we first saw the doctor, he was offered counselling but then we were told there was nobody available. Then he was prescribed the Prozac, which I think should be a last resort - not the first option.
"I think the doctors could have done more because I don't think Peter was severely depressed, he was just on a downer."
Allan Young, professor of psychiatry at Newcastle University, said research shows people taking SSRI's are at an increased risk of harming themselves in the early stages.
He said: "Since anti-depressants came out in the 1950s, it is understood that in the early stages of treatment there can be an increased risk of self-harm compared to later on.
"This is due to the fact that anti-depressants may agitate people early on and may increase the risk of trying to harm themselves. But that has never clearly been shown."
Prozac is the most widely prescribed ant-depressant in history. Since its introduction in 1986, its makers Eli Lilly and Co, claim more than 40 million people across the globe have taken the drug.
A spokesman for Eli Lilly said: "Our view is that there is no credible scientific evidence that establishes a link between Prozac and suicidal behaviour.
"In fact, several studies suggest Prozac actually reduces aggressive and suicidal thoughts and behaviours.
"Prozac is one of the most widely studied medicines in use today. Lilly stands by the efficacy and tolerability of Prozac - a medication that has helped tens of millions of people around the world."
But worldwide expert on anti-depressants Shirley Trinkett said last night that Mr Hearn's story is an all-too-common scenario.
A former prescription drug counsellor, Mrs Trinkett, of Sunderland, has been campaigning against the use of anti-depressants for 10 years and has published a number of books on the subject. Her latest work on Prozac and similar anti-depressants is due to be published next year.
She said: "This is a terrible story, but unfortunately it is an everyday story for me. Young women, young men, barristers, road sweepers - this can happen to anybody who is put on the medication. What this man needed was a sedative to help him sleep and counselling to find out what was worrying him.
"But unfortunately it is a lot easier for doctors to pull out a prescription pad and write Prozac on it.
"Sometimes the homicidal and suicidal feelings come immediately when people start taking Prozac."
The Journal: Today's Voice of the North
Page 2: Doctors too quick to hand out prescriptions - expert