Terry Bradshaw Cancels Appearance Here After Robinson Website Protest
posted August 12, 2004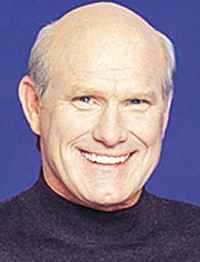 Terry Bradshaw

Pro Football Hall of Fame quarterback Terry Bradshaw has canceled a fundraising speech here, citing a locally based website that has been critical of him.

The site, SSRI Citizen, is operated by Rob Robinson, son of City Councilwoman Sally Robinson.

Marianne Edwards, development director for the Fortwood Center, said the agency received a letter on Friday from Mr. Bradshaw's agent, informing them of the cancellation.

She said the Fortwood Center has spent thousands of dollars promoting the event, including billboards around the city.

The Bradshaw speech on how he successfully battled depression had been set for Nov. 18.


Ms. Edwards said Judy Collins, singer and author, has been lined up as his replacement. The new date is Nov. 16.

The Robinson site (www.ssricitizen.org) focuses on SSRIs, or Selective Serotonin Reuptake Inhibitors, a class of drugs which includes popular medications such as Prozac, Paxil, Zoloft, Luvox and Celexa. The Robinson site says the drugs can cause serious side effects, including hostility and aggression.

The Robinson site refers to Terry Bradshaw as "Mr. Paxil" and says, "Former football legend Terry Bradshaw now hawks Paxil for GlaxoSmithKline."

Mr. Bradshaw, who led the Pittsburgh Steelers to four Super Bowl championships, was scheduled to speak on the topic of "Why Not Be Your Best? The Winning Strategy Of Conquering Depression."

The Fortwood Center, a private, nonprofit mental health organization, was founded in 1947 as one of the first outpatient mental health centers in Tennessee. The center is the largest provider of outpatient mental health care in the Chattanooga area.

Tickets for the event had been selling for $65 each or $500 for a table of 8.

Mr. Robinson on the website calls himself "a Paxil survivor," and he says he filed suit in 2002 against the manufacturer of Paxil. The site offers "Unsafe At Any Dose" bumper stickers for sale.

Mr. Robinson could not be reached for comment.

The Fortwood Center said in a press release:

Fortwood Center has been notified that Terry Bradshaw has cancelled his appearance as speaker for its November fundraise. Mr. Bradshaw's appearance was to talk about his experience with depression and his success with treatment.

"Unfortunately, local protests were threatened because he serves as a spokesman for the medication, Paxil, an anti-depressant medication.

"The drug has helped Mr. Bradshaw and many others beat the symptoms of depression; however, some people can experience some withdrawal symptoms if they quit taking the medication abruptly and are not properly transitioned off the drug. As with all drugs, the FDA requires comprehensive listing of all side effects, one of which is the warning to be very cautious in using the medication in children.

"While Fortwood regrets Mr. Bradshaw's decision to cancel, we are moving forward with our November event which will feature singer, songwriter and author Judy Collins as our keynote speaker, who will be speaking on suicide, struggle and strength; her recovery from personal tragedy. Event date is Tuesday, Nov. 16, at the Convention Center.




Rob Robinson