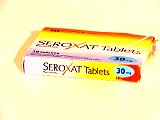 "It has become clear that the benefits of Seroxat in children for the treatment of depressive illness do not outweigh these risks" - MHRA
'Seroxat dangerous for children'
10.51AM BST, 10 Jun 2003
The government's drug regulatory agency has warned that top-selling antidepressant Seroxat should not be used to treat depression in people under the age of 18.
The Medicines and Healthcare Regulatory Agency (MHRA) said new data showed an increase in the rate of self-harm and potentially suicidal behaviours in this age group when Seroxat was prescribed.
"It has become clear that the benefits of Seroxat in children for the treatment of depressive illness do not outweigh these risks," the MHRA said in a statement.
Seroxat was first licensed in the UK in 1990 for the treatment of depression. In the last year, approximately 4 million prescriptions were issued and an estimated 8,000 patients under 18 years were treated with the drug.
It is estimated that almost 17 million people worldwide have been treated with Seroxat since it was first licensed.
Richard Brook, Chairman from the mental health charity, MIND said: "MIND has been concerned to ensure that the experiences of users of Seroxat were taken seriously.
"This new evidence underlines the concerns that young patients have been voicing and MIND accept that speedy action has been taken to address this new evidence.
"MIND strongly believes that the decision today requires us to move very quickly forward on the review of Seroxat and other SSRIs especially given the strength of concern we've heard from people taking these drugs."
A Welsh coroner said earlier this year that Seroxat should be withdrawn while its safety is investigated. GlaxoSmithKline, which manufactures it, insists that the drug is safe.
But a jury in the US ordered GSK to pay almost £5 million two years ago to the family of a man who killed himself, his wife, daughter and granddaughter after two days on the drug, whose generic name is paroxetine.
And in March this year, Brecon coroner Geraint Williams said he would ask Health Secretary Alan Milburn for an inquiry after retired headteacher Colin Whitfield, 56, committed suicide after taking Seroxat for two weeks.
Mr Williams said he had "grave concerns" that Seroxat was dangerous and was "profoundly disturbed" by reports that it had radically changed Mr Whitfield's personality.
Last week a coroner said that the anti-depression drug Prozac "may or may not have contributed" to a 52-year-old librarian's death.
David Hinchliff recorded a narrative verdict at the conclusion of the inquest into the death of Wendy Hay who was found hanged in the garage of her home in Arthington, near Otley, West Yorkshire, last September.
Mr Hinchliff said that after listening to all the evidence during the inquest no one could say with certainty that Prozac did or did not play a part in Mrs Hay's death, but it may be that a minority of patients may suffer adverse side effects.

Drug warning