Drug turned loving man into a killer, says judge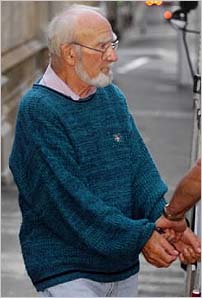 Out of character . . . David Hawkins. Photo: Brendan Esposito
By Allison Jackson
A Supreme Court judge has blamed Australia's most widely used antidepressant for causing a 76-year-old man to kill his wife of 50 years.
Justice Barry O'Keefe said David John Hawkins strangled his wife, Margaret, as a result of taking 250mg of Zoloft - five times the recommended dose.
"The killing was totally out of character for the prisoner, inconsistent with the loving, caring relationship which existed between him and his wife, and with their happy marriage of 50 years," Justice O'Keefe said.
"I am satisfied that but for the Zoloft he had taken, he would not have strangled his wife."
Hawkins, a retired mechanic from Tumbarumba, in southern NSW, pleaded guilty to manslaughter on the grounds of diminished responsibility.
In sentencing him to a minimum two years' jail, Justice O'Keefe said Hawkins was genuinely remorseful for killing his "soulmate" and was unlikely to reoffend.
Hawkins has already spent 22 months in jail and will be released on July 31 to live with his daughter and son-in-law at Wagga Wagga.
Yesterday medical experts defended the drug, saying it was a safe and effective treatment for depression.
The chairman of the national drug initiative, beyondblue, Professor Ian Hickie, said: "Generally speaking, [Zoloft] is extremely safe ... but, like all drugs that work, in some situations they are associated with unusual reactions."
Hawkins first took Zoloft in 1996 after the death of his youngest daughter from breast cancer. He suffered an adverse effect after taking one tablet.
His depression returned in 1999 and Hawkins saw a different doctor, who prescribed him Zoloft again.
The doctor told him not to take the medication until breakfast on Sunday, August 1. But he woke at 2am and took five tablets. At 7.30am, as his wife prepared to light the fire, Hawkins strangled her.
"I was looking at my wife but I wasn't seeing her face," he told a doctor. Hawkins then attempted to kill himself.
A spokesman for Pfizer, which makes Zoloft, defended the drug, saying there was no evidence to suggest it had any side effects of aggression or aggravation.
Dr Bill Ketelbey said: "It is pure speculation that aggression is a side effect.
"In a few instances where patients have inadvertently taken an overdose [of medication], there has been a very wide margin of side effects."
Pfizer lists more than 30 possible side effects in boxes of Zoloft, including agitation, anxiety, nervousness, abnormal thinking, lack of feeling, vomiting and twitching.
Zoloft came under scrutiny in the United States after the murder-suicide of actor Phil Hartman and his wife, Brynn Omdahl.
Omdahl, 40, shot Hartman, 49, star of the TV sitcom News Radio and the voice of several characters in The Simpsons, in 1998 after spending an evening drinking with a friend.
Omdahl shot herself four hours later.
Her brother launched legal action against Pfizer Inc and a psychiatrist, claiming she was under the influence of Zoloft.
A civil action lawyer, Mr Peter Semmler, QC, said that while it was "theoretically" possible for a drug manufacturer to be sued if one of its products was shown to have caused homicidal behaviour, it would have to be proved that the company had failed to take reasonable care in the manufacture of the drug or in giving adequate instructions or warnings.
Professor Hickie said the community needed to be better informed about depression and the drugs used to treat the illness.
"We need to make sure that doctors and pharmacists provide adequate information and in forms that people can understand.
"That traditionally has not been the case," he said.
An Australian Medical Association psychiatrist, Dr Bill Pring, said there was no reason to ban Zoloft. If used early and effectively, it could prevent violent behaviour, he said.
A spokeswoman for the Therapeutic Goods Administration said it would review evidence linking Zoloft to Hawkins's violent behaviour.
It would consult national drug regulatory agencies and Pfizer about whether they were aware of other reports attributing serious criminal behaviour to Zoloft.