The pill that killed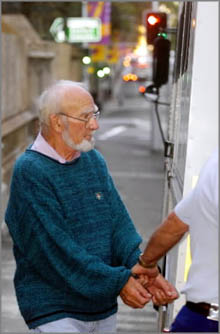 David Hawkins ... "I have killed my wife ... I got tablets from the doctor yesterday and I think they were too strong." Photo: Brendan Esposito
Manufacturers Pfizer find it "extraordinary" but the anti-depressant drug Zoloft stands accused of murder. Deborah Cameron and Allison Jackson report.
A tiny, pale, bullet-shaped pill symbolically in the dock alongside a confessed strangler, has been named by a Supreme Court judge as the dark force in "a terrible act" of murder.
The anti-depressant drug Zoloft is central to the story of why David Hawkins, 76, snapped and strangled his 70-year-old wife.
Nothing conveys the devastation of Hawkins so thoroughly as the chilling tape that was played in court of his call to the police emergency number.
"I have killed my wife ... I got tablets from the doctor yesterday and I think they were too strong. I went, I went absolutely wild. I don't know. I was mad. I can't say any more ... I have got to go. I am heading out and I am going to get rid of myself. Nobody, nobody can help me now. Nobody can help me now. Look I've got to go. I'm shaking here. I can't wait. I can't stop."
Hawkins was not alone in his depression. According to national figures, one in 15 adult and adolescent Australians has clinical depression. Most commonly this major illness is treated with tablets - 8.2 million prescriptions were written in 1998, mainly for Zoloft, Prozac, Aropax, Dothep and Endep.
What is mysterious is the scale and severity of bad reactions.
The Supreme Court quotes evidence from the Department of Health and Aged Care of 510 Australian patients on Zoloft who reacted badly, but the picture is very sketchy. The department will not release comparative figures for other similar drugs and admits that reporting is not mandatory anyway.
The world's leading expert critic of Zoloft, Dr David Healy, of the University of Wales College of Medicine, claims the 510 figure is undoubtedly wrong and that between 5,100 and 51,000 would be more realistic. The truth, he says, can never be known because patients keep their feelings to themselves, fearing what will happen if they reveal murderous thoughts. "Imagine that you are taking Zoloft and you start to have feelings that you want to murder your children," Healy said from Canada yesterday.
" How can you speak about it if you think that you might get locked up?"
Healy is a leading voice in the world debate about Zoloft which, like Prozac, is a serotonin re-uptake inhibitor. Both the drugs have been implicated in tragic crimes and suicides, mainly in the United States. Among them are cases involving a 13-year-old boy who hanged himself, a successful businessman who committed suicide and a proud grandfather who killed his only granddaughter, his daughter, his wife and himself - all, according to Healy, under the influence of Zoloft and drugs like it.
Healy provided an opinion to the Supreme Court in the Hawkins case saying the drug produced a "strange and unusual state of mind" in Hawkins that directly led to the murder.
"In my opinion had he not been taking Zoloft the events of that night would not have happened," Healy wrote in the opinion that was tabled in court.
He is not surprised by the stance taken by the manufacturer of Zoloft, Pfizer, which has stoutly defended the drug and called the Supreme Court finding "extraordinary". The response of Pfizer's Australian branch is consistent with the international corporate position of all the major drug companies, which is to deny that the drug is culpable.
Healy says there is fierce opposition to his views and believes his opponents are behind a recent decision by the University of Toronto to stop him from taking up a post there.
Dr Bill Lyndon, the chairman of the committee for psychotropic drugs and other physical treatments of the Royal Australian and New Zealand Collection of Psychiatrists, said Pfizer needed to be frank about Zoloft.
"The profession would expect a company in this situation to make available any data they had on the drug," he said.
While he did not suggest that Pfizer was hiding evidence, he said doctors needed to be clear about anything that might adversely affect patients.
Lyndon said he was worried that the Supreme Court decision might cause panic in patients who were taking Zoloft or other anti-depressants and he warned them against stopping their medication without first seeing their doctor.
The NSW Health Complaints Commission has recorded two episodes of patients criticising general practitioners who prescribed Zoloft. One involved a woman who saw her GP for pre-menstrual tension and was prescribed the drug, which made her suicidal.
Commissioner Amanda Adrian said the drug should not be prescribed lightly and that pharmaceutical companies needed to do more to protect consumers.
She said the lack of proper statistics on adverse reactions was a grave concern to many close followers of the issue, including health lobbyists who wanted to be able to report experiences more directly rather than relying on doctors.
"The obligation of the pharmaceutical companies is probably higher because it is dealing with a therapy for a vulnerable group of humanity," Adrian said.
A New Zealand psychologist, who asked not to be named for fear of repercussions from the drug industry, said he was "sickened" by the failure of Pfizer to apologise to the family of Hawkins or promise to review the safety of Zoloft.
He said it was hypocrital of Pfizer to suggest Justice O'Keefe reached his conclusion that Zoloft had caused Hawkins to kill his wife after hearing only half the evidence.
"For a drug company to blame this judgment on one-side information is pathetically ironic. Delegates at [the Royal Australian and New Zealand College of Psychiatrists] congress [in Canberra] were continually bombarded with genuinely one-side marketing tactics all designed to do one thing: increase our prescribing of their product regardless of the side effects."
O'Keefe's findings read as the strongest possible indictment of its role in the crime.
The murder, he said, was "a tragic reminder" about the dangerous side-effects of Zoloft.
Hawkins, a retired mechanic who lived with his wife, Margaret, on their hobby farm near Tumbarumba, in southern NSW, had suffered depression on and off since the 1970s. He first took Zoloft in 1996 after the death of his youngest daughter, Christina, from breast cancer, and then in 1999 when he became depressed over the sale of their property.
Despite the doctor's orders not to take the drug until breakfast the next morning, Hawkins took one tablet at 2am on August 1, and when he didn't feel any better, he took four more.
At 7.30am, as his wife prepared to light the fire, Hawkins "went absolutely berserk ' and strangled her with his hands.
O'Keefe said the killing was totally out of character for Hawkins, who had been in a loving relationship with his wife for almost 50 years.
"I am satisfied that but for the Zoloft he had taken he would not have strangled his wife," O'Keefe said.
He ascribed no blame to the general practitioner, whose notes, he said, were significant and who wondered whether Hawkins may have been suicidal.
Hawkins received a two-year minimum prison sentence but because of time already served in remand he will be free in nine weeks.