» More From The Oregonian


Susan Nielsen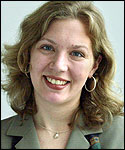 The doctor made me do it
As a $3 million jury verdict for a patient who shot himself shows, neither pills nor physicians are all-powerful in treating depression
Sunday, July 1, 2001
Dr. Kim Webster was not in the room when Jay Johnston shot himself in the face. Yet the Portland family doctor must fight a $3 million jury verdict for failing to prevent the botched suicide attempt.
It was the doctor's fault, the young man's lawyer said --although Webster did not load the shotgun, drink the whiskey or pull the trigger. The Multnomah County jury agreed, saying the doctor relied too much on pills that promise happiness and peace: Zoloft, Ritalin and Prozac.
Consider two other high-profile cases from June. In one, a Wyoming man killed three relatives and himself after taking the anti-depressant Paxil. The jury blamed the drug and slapped drug-maker GlaxoSmithKline with a $6.4 million judgment. In another, a Texas mother drowned her five young children. Fingers pointed to the doctor who tried to treat her postpartum depression with a medley of drugs.
Depression is a disease as serious as cancer. It is a tumor on the soul, suffocating the will to live. I am glad to see depression gaining national attention, but unnerved to see it treated as a thing to be magically cured with pills from an all-powerful doctor.
Depression is not a purely physical ailment, like an ear infection or broken leg. Anti-depressants work wonders for some people, but they present a paradox: They are not powerful enough to compensate for the health-care industry's ambivalence toward mental illness, but they are too powerful in a culture that treats every mood but happiness as a disorder.
And blaming doctors for their depressed patients' actions takes the Hippocratic oath to a ridiculous new level -- from "Do no harm" to "Prevent anything bad from happening."
---
How did we get here? Let's focus on family doctors, not because they are freer with anti-depressants than psychiatrists, but because they are most people's main contact with the health-care system.
Say you're a family doctor. Several times a week, patients will tell you they are depressed. They say it in different ways. A teen-ager comes in for stomach pain, then says her boyfriend just dumped her and she hates herself. A new mother with the flu mentions she has a hard time getting out of bed every day. An old man says nothing at all, beyond the grief emanating from his slumped shoulders.
Your employer gives you 15 minutes to diagnose your patients and send them away. Few insurance plans cover much therapy, but many cover drugs.
Every few months, a pharmaceutical company may invite you to a dinner at a swanky Portland restaurant. The drug sellers load you with samples and pens. They want you to be ready, because they've spent billions training consumers to ask for anti-depressants by name.
And every few months, another mental-health resource vanishes. The April closure of a psychiatric facility left only 193 beds for adults and 53 beds for children in the Portland area, putting a tremendous strain on the system statewide. The Crisis Triage Center, a Portland clearinghouse for people with mental-health needs, will close at the month's end.
Diagnosing and treating depression is more art than science, especially within the confines of a typical family practice. You can't tell how bad it is with an X-ray. You can urge therapy, but patients often cannot afford it or won't go. And some therapists turn down the more difficult cases, limiting their practices to what psychiatrists call "healthy neurotics." (Yes, you.)
The more extreme the depression, the more difficult the options. Many people would rather die than be committed to a psychiatric ward; the shame is too great. You cannot commit people against their will unless they are an imminent "danger to self or others" -- an extreme action that can be justified only if the person's free will collapses under the mental pain.
Liability looms. Commit someone and risk getting sued. Don't commit, and risk getting sued.
So, you wade alone through hundreds of patients, trying to sort the severe depression from the anxiety, the whining, the grief and the blues.
Even for doctors with a psychiatric specialty, some patients kill themselves anyway.
"I've had suicides in my practice, and it's a horrible thing," said Dr. Ronald Turco, a Portland psychiatrist and president-elect of the American Academy of Psychoanalysis. You second-guess yourself, he said.
Turco has his own set of beefs with today's treatment of mental-health problems. Naturally, he hates that pharmaceutical companies cater to family doctors. Mind-altering drugs are serious business, he says. Prescribing pills without proper therapy or oversight is a recipe for disaster.
Family doctors can try plenty of things: refer patients to therapists, prescribe medication and recommend support groups, for example. But they still face uninsured patients. And they know many insurance plans cover physical symptoms of depression (like some migraines or ulcers), but not depression itself.
They cannot work miracles in 15-minute intervals.
That's what worries Dr. Susan Tolle, a medical ethicist and internist with Oregon Health & Science University. Patients come in seeking relief or happiness from a system ill-equipped to handle mental suffering. When things go wrong, the doctor is the easiest to blame.
And there are broader ethical limits to what any doctor can do, Tolle added. Except for public-health emergencies or imminent risks of violence, doctors must respect patients' free will -- even when patients endanger their health.
Doctors can do nutrition counseling or perform liposuction, but they cannot stop obese people from eating Big Macs. They can give chemotherapy, but they cannot force people with cancer to stop smoking.
And they cannot keep depressed people from crying all night, or driving too fast, or knowing where the gun is.
---
Dr. Webster will appeal the $3 million verdict. The bare bones of the allegations look like this:
Jay Johnston was a winsome high-school jock who suffered bouts of depression. Webster referred Johnston to a counselor in 1996; the counselor dropped Johnston after two visits. Webster prescribed Zoloft and Ritalin. Johnston said he attempted suicide. Webster upped the meds, then changed to Prozac. In the spring of 1997, after fights with his mother and a friend, 17-year-old Johnston put a shotgun to his chin. He lived but is grossly disfigured.
I don't know what kind of doctor Webster is, or what kind of patient Johnston was. Neither does Dr. Connie Powell, a Portland psychiatrist and president-elect of the Oregon Medical Association. But Powell does say doctors all across Oregon struggle every day to treat depression -- often with limited time and resources.
"Family practice is not well-suited for acute mental illness," Powell said. "And the primary-care physician doesn't necessarily have the luxury of referring to specialty care for mental-health needs, like they can for physical problems."
It would be easy to blame the evil health-care industry for all the flaws in this system. But the truth is, the health-care industry has always been a reflection of cultural norms.
No one used to talk about depression decades ago. We locked the crazies up, and we cried and drank and hurt each other in silence, then told the doctor we fell down the stairs.
Today, everyone talks about depression, but we still don't know what to do about it. Commercials for Serafem and Prozac promise an easy fix, and people with unhappy thoughts are urged to see their doctors. We are told that as many as 20 percent of people struggle with depression during their lifetime; then we are told, actually, it is higher. Good grief.
That is a lot of sickness for a family doctor to face. And it is an unexpectedly doubled burden to be responsible for the diseases of the body and the enigmatic struggles of the mind and soul.
---
Reach Associate Editor Susan Nielsen at (503) 221-8153 or by e-mail at susannielsen@news.oregonian.com.